IM Translator 3.0
(users of version 2.0 please click here)
IM Translator is a tool that provides instant translation of messages and other texts in major European languages. With IM Translator you can chat with your friends on ICQ, AIM, MSN Messenger, Yahoo! Messenger and other messenger services even if you don't speak each other's language. All you have to do is to select a message and with one keystroke you will get its translation. You can also translate your own messages and send them to your friends.
IM Translator translates in the following languages:
· English <-> French
· English <-> German
· English -> Portuguese
· English <-> Russian
· English <-> Spanish
· French <-> Russian
· German <-> Russian
· Italian -> Russian
· Spanish <-> Russian
IM Translator includes the following new features:
· New easy-to-use interface.
· Support for major instant messenger services: AIM, ICQ, MSN Messenger, and Yahoo! Messenger.
· Support for transliterated Russian language.
· Unicode compatible - simultaneous display of foreign characters of different language groups in many applications.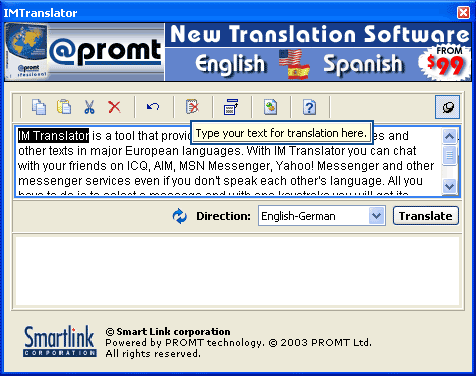 This program is based on the proven PROMT translation technology. Its capabilities have been recognized by the best experts: PC Expert, Windows News, European Ist Prize by the European Commission, as well as some of the most demanding clients: France Telecom, Renault, Nestle, NASA...